A Gift Guide for HER: The Ultimate Girl Boss
Do you have a girl boss in your life? Whether it's your friend, sister, for other special lady, this woman deserves a great gift, because she puts in the work to make her dreams come true!
We recently created a holiday shopping guide at local woman-owned businesses, that featured the Dayton-Cincinnati region. In addition, we've created a list of reasonably priced gift ideas for everyone, everywhere. Check out the list below, as you'll find ideas to help the girl boss you know, level up in all aspects of her life.
Tech/Business Tools & Resources to Make Her Life Easier
Online Courses
A girl boss is always looking for new skills to improve herself. Give her an edge, by gifting an online course that she can take on her own time. Here's a few suggestions: Masterclass, or Udemy.
Pre-Made Website Templates ($80)
She has a business, but no website? Fix that, by gifting this pre-made template.
A Portable Charger or Charging Station ($40)
A girl boss is always on the go, so gift her this portable charging station, so her devices are always ready to use.
Amazon Dot Echo ($50)
This device is a voice-controlled speaker that uses Alexa to control smart home devices, make calls, answer questions, set times and alarms, play music, and more.
Photography Equipment for Filming ($53)
Good imagery is important to sell products and services. Gift her this photo lighting kit, or if you want go a step further, book her a photographer for the day.
Business Magazine Subscription
These monthly or annual subscriptions are the gifts that keep on giving. Consider a business magazine subscription, like Entrepreneur, the ultimate online business resource, highlighting the world's top entrepreneurs.
Girl Boss Subscription Box Services
There are so many subscription box services out there for all interests! Consider, Sparkle Hustle Grow, provides tools, training, and a community to help grow a business.



Gifts to Maintain a Healthy Lifestyle
Infused Water Bottle ($15)
Hello Fresh Subscription
A healthy meal kit delivery service.
Whole New You Cookbook ($13)
From the star of the Cooking Channel's Tia Mowry at Home comes a timely clean-eating cookbook that will change the way you think about what you eat and jump-start your journey to a healthier, more gorgeous you.
Whiskey and a Teacup Cookbook ($18)
Academy Award–winning actress, producer, and entrepreneur Reese Witherspoon invites you into her world, where she infuses the southern style, parties, and traditions she loves with contemporary flair and charm.
Cravings: Hungry for More by Chrissy Teigen
Cravings: Hungry for More takes us further into Chrissy's kitchen . . . and life. It's a life of pancakes that remind you of blueberry pie, eating onion dip with your glam squad, banana bread that breaks the internet, and a little something called Pad Thai Carbonara. And it will have you hungry for more.
The Fashion & Beauty Essentials
Phenomenal Woman T-Shirt ($35)
She's a phenomenal woman, give the gift that says so.
Fenty Beauty Products
Rihanna's new brand has been the most popular beauty launch in 2018.
Mantra Band ($35)
Jewelry with inspirational mantras for all the girl bosses you know.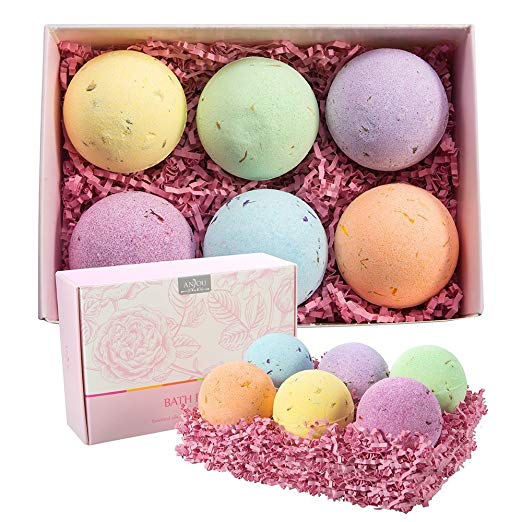 Bath Bombs ($14)
A vegan all-natural essential oils to help HER relax.
Gifts for the Book Lovers (all under $25)

Experience Gifts
Sometimes, the material things just won't cut it. Consider an experience gift, to make lasting memories with her. This can be something super simple like picking up the tab during dinner or exotic as going on a safari in Africa. Here's a few suggestions:
Painting or Cooking Classes

Spa Day

Wine Tasting

Sky Diving or Zip Lining

Memberships

Vacation Trips
Keep it simple with these Gift Card Ideas
For any last minute gifts, or if you just want to keep the gifts simple, consider these gift card options:
Groupon - discounts on local activities and travel packages
Amazon - the one-stop shop for a variety of products

Spotify - a good resource for a library of music & podcasts

Audible - audiobooks that are good for the commute or during travel

Target - because who really doesn't like Target?

Do you have any ideas not listed? Then, mention them in the comment section below!
Love Always,
Shyra and Krissy